Larson Davis Model 831

is an advanced Class 1 Sound Level Meter desgned for measurement environmental, occupational and product noise. Different Instrument Software are available to meet the most demanding requirements, such as 1/1 and 1/3 octave analysis, data logging, event history and sound recording.

Some of the features in 831 are specially designed for long time monitoring and event analysis such as:

Sound Recording can be triggered by event so that noise source can be easily identified without overflow of memory.
Smart Dynanic Trigger is useful for annoyance analysis. For example, 831 can be setup for the event logging when the SPL is 15 dB above the background noise level L90.
The inclusion of Weather Parameters (such as wind speed) and GPS improves the outdoor environmental noise measurement capabilities.
Use of 3G, GPRS, WiFi, LAN in remote control and dowload of data, monitoring can be achieved easily with significant saving in time.

comply with IEC651, IEC804
120 dB dynamic range - no range switching anymore
Sound & Voice Recording*
GPS support and Time Synchronous*
interface to outdoor microphone, up to 91.4m
simple one-hand operation
support

3G, GPRS, WiFi, LAN cable for Remote Operation*
2 GB Memory
Real-time 1/1 and 1/3 Octave Analysis
Automatic Data Logging (20ms to 24 hours)*
USB 2.0 interface
powered by computer through USB
support USB Stick (unlimited storage space)
extremely rugged compact, light weight 0.5kg

*options
Instrument Software Options
| | | |
| --- | --- | --- |
| | | Real-time 1/1 and 1/3 octave frequency analysis |
Event History - event logging (Leq, Lmax, MaxP). Trigger audio recording of event if 831-SR option is enabled.


Event Time History

- logging of event details down to 2ms (together with 831-LOG)
Measurement History - data logging of all parameters including spectra & statistics, at time interval from 1 min to 24 hours.
| | | |
| --- | --- | --- |
| | | Sound Recording - audio recording of the measured data |
| | | |
| --- | --- | --- |
| | | Time History - data logging of up to 16 parameters from 20ms to 24 hours. |
| | | |
| --- | --- | --- |
| | | Reverberation Time - measurement of RT60 according to ISO 3382-2. |
831-FFT

FFT Analysis

- for fine resolution frequency analysis


Provides real-time 1/1 and 1/3 Octave frequency analysis, that is useful in tonality assessment, selection of hearing protection, and qualifying of ventilation system.

Wide frequency ranges are provided:
- 1/1 Oct : 8 Hz to 16kHz
- 1/3 Oct : 6.3 Hz to 20kHz

Leq, Lmax, Lmin, Ln (statistics) are measured with A, C or Z frequency weighting.




EVENT TIME HISTORY

logging of event details down to 20ms when over the triggered level. (together with 831-LOG). Smart Dynanic Trigger can be used for event logging, for example, when the SPL is 10 dB above L90.

MEASUREMENT HISTORY is used to perform a sequence of measurements using the same setup, either manually or automatically, at time interval from 1 min to 24 hours. All parameters are logged including spectra and statistics (Ln). The function is useful for environmental Base Line Monitoring study and report.

The Interval Time Sync feature ensures that all measurement records are properly aligned in time for easy reporting. For example, if the measurement time is five minutes, and the measurement begins at 08:14:00 (h:m:s format), the first measurement will be cut short such that the subsequent measurements will begin at 08:15, 08:20, 08:25, etc.



Remaining Leq (Measurement Hitory) -

New !!!

The

remaining Leq function in Measurement History is very handy in controlling the sound level during public event like concert or Chinese opera held in open area. The regulation asks the organizer to control the sound level within a limit.

For example, the limit /

'target'

for 15 min Leq is 70 dB. If the

'current'

Leq level is 76 dB, for the remaining time, the

'remaining

' Leq should be controlled below 66.7 dB.

The

LAeq (1s)

shows the real-time Leq level so that the event organizer or audio controller can make adjustment of sound level accordingly.
Sound Recording allows the recording of the measured noise for documentation or noise identification, so that there is no argument about the cause of noise.

Recording can be continous; or triggered by event (with 831-ELA); or triggered by markers (with 831-LOG).
In Time History mode, 831 can automatically log up to 16 acoustic and non-acoustic parameters (e.g. Wind Speed) including spectra, at time intervals from 20ms to 24 hours.

10 markers are available for annotation of time history for different sound sources (truck, aircraft...etc). Marker can also trigger the sound recording if 831-SR is enabled.

Remark : for precise timing of noise event, logging down to 2.5ms can be achieved by 831-FST option.




831-RT firmware was designed with simplicity in mind yet complies with the latest ISO 3382-2 measurement standards. It supports both the Integrated Impulse Response and Interrupted Noise excitation methods. The on-board signal generator provides a pink or white noise source for optional amplifiers and omni-directional or façade speakers.

The user can display an individual RT spectrum and discard those with erroneous data. The spectra from multiple positions are ensemble averaged to display an overall RT60 calculation.

Quality indicators supports the validation of measurements. Additionally, grading of the measurement according to ISO 3382-2 indicates whether sufficient positions (microphone-source combinations) have been acquired to obtain the expected grade: survey, engineering or precision.


To download 831-RT pdf brochure....



When better frequency resolution than 1/3 octave spectral analysis is required, Model 831 FFT Frequency Analysis is the ideal solution. The Fast Fourier Transform (FFT) algorithm is implemented in the Model 831 for precision spectral analysis of acoustic or vibration signals.

6400 FFT lines with resolution down to 0.016 Hz allows accurate determination of the frequency, for example, in tone detection.

For transient noise analysis, multi-spectra can be logged by spectra history so that its variation can be investigated in detail.

Spectrum can be downloaed to PC for display by G3-Utility program, which is FOC.

To download 831-FFT pdf brochure...

Model CAL200
- Class 1 Calibrator for 1/2" microphone
- Calibration frequency 1kHz
- 94 or 114 dB ( 0.2dB)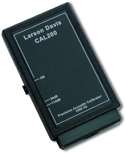 Free of Charge SLM Utility-G4 is availble for download. It can be used for remote control of 831 and data download to PC for reporting, printing and export to other program like Excel.